Anonymous asked: Jessica... Hi there. How did you feel the first time you watched The Graduate?
Thank you so much for the question, anonymous! The first time I saw The Graduate I believe I was 18 or 19 and caught it on Turner Classic Movies. I really liked it, but honestly I think I was too young to really appreciate it. Even though that was only 4 or 5 years ago, my reactions to movies and what I think makes a great movie and what speaks to me from a movie is completely different now than back then. That remains the only time I have seen the movie. I need to watch it again. I loved the soundtrack and the characters and the way it was shot but I wonder if my reaction to the ending would change now. If I would sympathize with a different character now. Kind of a hard question to answer, anonymous, but I tried. I'm here all week, keep the questions coming.
I wish you were still around, Mr. Marvin. You died before I was even born. I try to think of actors today that have even a tiny taste of your coolness, but I struggle to come up with any faces. I miss the Lee Marvins, the Warren Oates, the James Coburns, the entire cast of The Dirty Dozen. Actors today are too pretty. They all look like Calvin Klein models and have the charisma of a Dyson vacuum. They are boring. You weren't boring. You didn't even have to try, you were just naturally a badass. You had style. Nobody else had style like you. I wish you were around and I knew you and whenever I was facing a problem I could tell you and you'd handle it and I'd just stay at home and paint my toenails. The 60s and 70s, those were the days for cinema. Those were the days of coolness and masculinity without trying too hard, without being about superheroes or comic books or zombies or any of that bullshit. It was just men being cool, but realistically, played by actors who were cool. Those movies were about something. They were entertaining and the directors knew how to shoot a movie and the actors had charisma and the movies had substance. Every shot was memorable. The behind the scenes stories were interesting. Maybe I'm just overly romanticizing my favorite era of film. Great movies are certainly still being made today, but the studio system, the mainstream movies, that's what's lowered in quality. People don't take risks anymore. Nobody has final cut anymore. Sam Peckinpah is no longer with us. Don Siegel is no longer with us. But things are going to change. They have to. A new wave of cinema is going to be underway and hell, if not, I'll bloody do it myself and start a one-woman new wave of film that is authentic and has substance and heart and beauty and coolness. The film industry needs real voices and real vision. Audiences need real voices and real vision. And I'm gonna give it to them, because really, what the hell else am I going to do.
Ah, words. I don't write on here as much as I'd like to. My thoughts have been scattered lately, never following a linear path. Just useless, stupid shit I focus on and can't move on. Not really having any words to translate into a full fledged tumblr post. I think about a lot of things. Not worrying, just thinking. My family back home, all the dogs in the world that I'd love to kill, work, money, rent, my car and what I'm going to do once it eventually breaks down, Michael Fassbender's penis, my skin, my clothes, the people I know, the people I don't know, work, money, rent. It's funny, being alone in a big city, trying to accomplish a dream that basically the entire city is trying to accomplish too. Life is funny. It's also hard as shit. Merely waking up and showering and eating and getting dressed and getting in your car to go to work or anywhere at all is hard. But we do it. We just keep going, don't we? Nobody will remember us in hundreds, thousands of years. I think that's actually a beautiful thought. Why should they remember any of us? They're going to be just as fucking stupid as we are. As the people hundreds, thousands of years ago have been. It's beautiful.
Sometimes it's overwhelming how grateful I am for everything. For my arms, my legs, my ass, my fingers, my nice hair, my brain, even pain and problems and frustrations and inconveniences and toilets that don't flush unless you lift the lid to pull the chain and annoying people and all that shit. Everything, I'm grateful for everything. Not many people have the opportunity to work hard to accomplish their silly dreams and some squander the opportunity by not working hard. I'm only in my early 20s but I feel old as hell. In a good way. The masochist in me is eager to feel the pain and burden of life's troubles like every human being on this earth since the beginning of time has endured throughout their life. I've been through a bit of shit myself already. I'm ready for more of it. IT'S ONLY JUST BEGUN.
"I'd rather live in his world, than live without him, in miiiiine… But realistically I can't just drop everything for this man who will eventually leave me plus I got 3 kids and 2 jobs while his ass don't even got one so he thinks he can run away and avoid all responsibilities but I gotta work a double tomorrow so fuck him and fuck Georgia, I'm staying home."
— Gladys Knight and The Very Bitter Pips
On this fateful Sunday at this very hour (the 5 o'clock hour to be precise), I currently have a load of laundry in the dryer (the whites), a full tank of gas in my station wagon, and a suitcase in my room waiting to be completely packed. For tomorrow I am leaving behind the miserable lifestyle that comes with being suffocated inside the horrible invention that is suburbia and onward! towards Los Angeles, where I will be living once again. For the uninformed, I led a tumultuous life there throughout 2012, where the city enjoyed swallowing me whole, but apparently I gave it bad indigestion and then got stuck in it's intestines which resulted in a violent stomach virus where it eventually projectile vomited me out of itself and into the house of my parents in the suburb of Temecula just in time for Christmas. My father made his legendary french toast that morning, truly marvelous.
This whole year I have spent inside this suburb, relaxing and going crazy and trying to find jobs and then quitting jobs and finding another and going crazy and borrowing some money and going crazy and saving money and then growing up and becoming the sweet and innocent and humble, let's not forget humble, 22 year old woman people tell me over and over how much they love (nobody has told me that). Of course, I still have plenty of growing up to do (I'm just saying that; I've grown up enough. My soul is 96.), but I have gathered enough intel this year on what it means to be a responsible, hard working adult and now I am more than ready to put it all into practice (I think it just means buying stamps and ripping up junk mail).
That's right. This time my dreams of becoming the world's greatest filmmaker will be fully realized. Yes, I can see it now. "Your last film was on par with Scorsese's Raging Bull, but far more poignant," the press will say. "Your affair with Michael Fassbender really helped your career," my pastor will say. Yes, I can see it all before me now. All will go according to plan. At least until the massive Southern California earthquake scientists are predicting kills us all. No, for real. A second sea serpent has washed up on the shore of Oceanside. We're all going to die.
eleskimo asked: Your letter to Stathis was perfect. The Fly is a fantastic film with deep and relatable characters, who manage to make you not only care about them, but about their relationships with each other. The only film I've ever seen that I feel I could truly call a romance/horror. I've never thought about Stathis in that light though, and what you said was completely true. I'm not sure that his cameo in Fly II did him justice. Thoughts?
Unfortunately I never saw The Fly II, so I can't give any opinion on his cameo. Or maybe that's more fortunate than unfortunate. However, after looking up the cast on Imdb I see that Eric Stoltz plays the "almost human" son of Brundlefly. I had no idea. I always excused that movie as something not worth my time, but knowing what I know now makes me want to see the movie immediately. Especially as a horror film fan, why not watch even the crappiest of horror sequels? In any case, I really appreciate you appreciating my Stathis appreciation post. I've seen every David Cronenberg film from Rabid to Cosmopolis, but the film I always come back to over and over again is The Fly, precisely because of those deep, relatable characters… and the awesome gore. And Cronenberg's commentary on the blu-ray is just as good as the movie. He speaks so eloquently and articulate, it's ridiculous.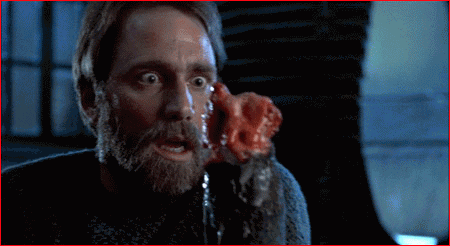 My Dearest Stathis,
You are everything I want in a man. You hide your sweetness and gentleness behind a facade of crudeness and 80's douchey-ness never before seen until Ellis showed up two years later in Die Hard. But I know the real you. Your actions speak louder than words. You loved Veronica, and even though you two were no longer an item and knew for a fact that she was going out with Seth Brundle, you still wouldn't let her go. So you said some crude remarks and went ahead with publishing the Brundle teleportation story, but you were angry and hurt, I understand! But Veronica eventually went to you for help, and you showed your true colors. You drove her around town in the middle of the night, first so she could give her last goodbye to Seth, who was then almost full fledged Brundlefly, which you certainly didn't need to do. And then you drove her to get an abortion. An abortion! Never has an action ever been more romantic in even the most romantic of romantic films! AND THEN after Brundlefly showed up by literally flying through the glass wall of the doctor's office to carry Veronica away into his lair, you followed and went to rescue her! You showed up armed, with a shotgun. Sure, you lost a hand and an ankle in the process, but even after all that, you still didn't completely lose consciousness or say, "This woman can burn in Hell." NO, you picked up that shotgun and dragged yourself with all your strength to shoot the telepod cord to stop Brundlefly from merging himself with Veronica, which would've certainly been catastrophic, and most likely very disgusting to watch. You saved Veronica. You saved her, in every way a person can be saved. Even though you are without a hand and an ankle, you are still more of a man than anyone else ever depicted in film. I love you. I adore you. Find me. Love me. LOVE MEEEEEEEEEEEE
Love,
A really big fan of The Fly (1986; David Cronenberg),
Jessica Salgado
We Americans lead very busy lives and let's be honest, texting and driving is something that can't be avoided in certain situations. Most, even. The solution isn't to abstain from texting and driving, but to learn how to text and drive. That's where I come in. Let me tell you how to text and drive without ending up like the guy with permanent brain damage who now needs help putting on a t-shirt and wiping his ass, forever living off those residuals he gets from being forced to exploit himself on national television whenever his commercial airs.
Texting and driving is certainly dangerous, but it doesn't need to be. It need not be more dangerous than tuning your car radio while merging onto the freeway, or eating a full course meal from Boston Market while parallel parking. It's people who don't know how to drive to begin with and can't text without putting all of their attention into their phones that get into accidents and kill themselves or innocent people. Now, if you don't know how to drive I can't teach you how. Maybe go back to drivers ed, Google "how to drive", or practice a little more in the empty parking lot of Arizona Leather. Simple tips: your car should be an extension of your body, don't speed up to slow down, be a calm driver, observe everything around you, gauge the speed of others, be one with other drivers.
Here are the 5 keys to properly texting and driving:
Do NOT text any more than one word at a time without looking around you.
Make sure you are okay with the lane you are currently in, because under NO circumstances are you to change lanes until the text is sent. (I do it, but that's only because I am a seasoned professional. Once you feel comfortable following these basic steps, you can attempt the erratic changing of lanes that I practice everyday.)
Only text and drive with a touch screen smart phone. (I have a prepaid flip phone with T-9 enabled texting, but like I said, that's only for the advanced.)
Do NOT let yourself get attached to your phone while driving that you are not able to throw it on the passenger's seat in 3 seconds flat if you feel the heat around the corner.
Do NOT be a woman.
You follow these and you'll be the expert texter and driver that I am with an impressively low insurance rate.